SNO-PALS Miniature American Eskimos

This page was last updated on: September 18, 2018
The American Eskimo is a member of the Spitz family. It has a lovely appearance, with it's heavy double coat. Eskie's blow their coat yearly, or with heat cycles. The undercoat will fall out in huge clumps at that time. For a few weeks, your eskie will be flat. You may even be able to see it's skin. Then that glorious fur will grow right back in again. some new owners have panicked. Vets & pet supply companies will sell you expensive vitimins, lotions, to stop the hair loss. There is no need to worry, it will grow back, save your money.

Overall disposition is an alert, active, watchdog. Eskies must be socialized to be an acceptable member of the neighborhood. Eskies are devoted to their owner. A poorly socialized eskie can become a formidable guard dog, allowing no one, or anything near his master or owners property. A eskie will consider anyone who feeds, walks, & plays with him, part of the family. Anyone in the household who ignores the dog, may find themselves the object of someone to be guarded against.

Eskies love to play. They are full of antics. They have been used as circus dogs. When raised with other animals, Eskies can be tolerant. Some have a rodent killer instinct. No mouse or rat gets past them. Eskies need to be socialized to other dogs. Training classes are the best place for this.

American Eskimos come in 3 sizes. Standard 15-19 in. Miniature 12 to 15 in. Toy 9 to 12 in. Sizes are not on registration papers. UKC allows the female to be 1 in. shorter than a male & does not recognize the toy size. Disposition is the same no matter the size. They are an active breed, vary few couch potato's.

I breed for the miniature size. An extra small or extra large pup may fall into one of the other size catagories. I do not guarentee size.

Children & eskies can be the best of friends. Small children need supervision around new puppies or dogs who are not kid proof. Children & some adult men will tease, molest, pick on, or otherwise aggravate puppies or dogs. Unfortunately eskies are smart. They do not tolerate being picked on. They have long memories. If a small child is allowed to injure them, they may decide not to like any kids. I had my first spitz at age 9, she was perfect for me, at that age. When my children were young, my puppies/dogs were kid proof. My kids grew up & left home. If you purchase one of my pups, it will be your responsibilty to socialize them to your children, & prevent injury to the pup.

Through out my site you will see photo's of Eskies & pups. These are dogs who are in the pedigree's of puppies sold.

Currant breeding dog photo's are listed under "My Dogs"

Currant puppies are listed under "Puppies Available"

American Eskimo Breed Information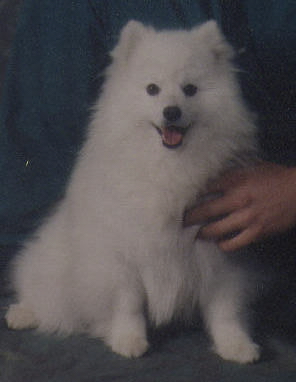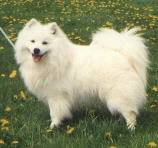 CH. Sno-Pals Elvis

Rainbow Bridge

GR CH 'PR' Sno-Pals Loveable Bubbles

Rainbow Bridge (Daughter of Koyotee & Flicka)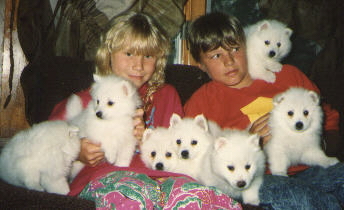 Elvis (by Tim's head) & Sparkles (held by Brenda)

            1990 Litter out of Jenny & Teddy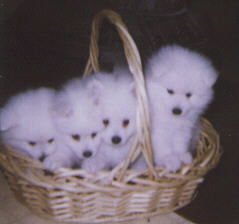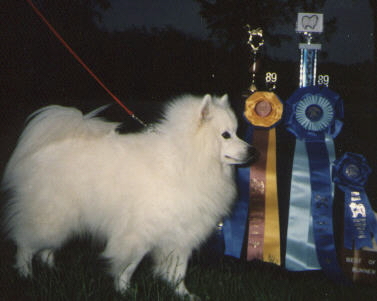 'PR' .Sinissippi Tobok Teddy

Rainbow Bridge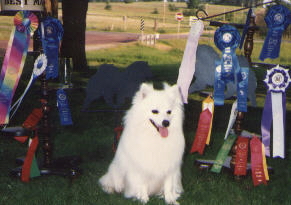 CH 'PR' Kort-Mar Panda Dude

Rainbow Bridge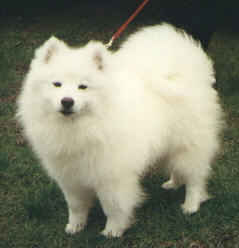 GR CH 'PR' Thorne's Lickety-Split Koyotee

AKC CH (Optigen B) My most prolific stud.

Rainbow Bridge

'PR' Ellenbecker's Jenny

Rainbow Bridge

'PR' Ellenbecker's Lucy & Garfield

Mother of Jenny & Penny, was renamed Last Go's Lucy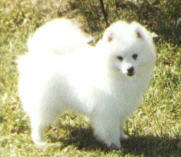 CH 'PR' Sno-Pals Mr BoJangels

went to live in Mi.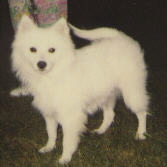 CH 'PR' Sno-Pals Sparkles

Sparkles blown coat, She doesn't even look like the same dog.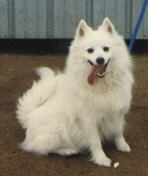 CH 'PR' Ellenbecker's Penny

Rainbow bridge at age 15.

Jenny's sister.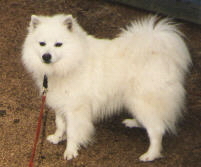 CH 'PR' Ellenbecker's Skipper

First dog I ever took to a show.

Rainbow Bridge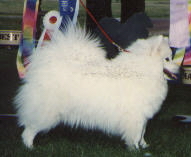 GR CH 'PR' Thorndykes Goldilocks

My 1st Grand Champion

Rainbow Bridge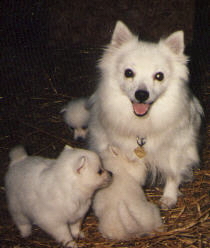 "PR' Gretta of Hi-Ho

Foundation Bitch

1985 Litter, Vanna & Lucy

Rainbow Bridge